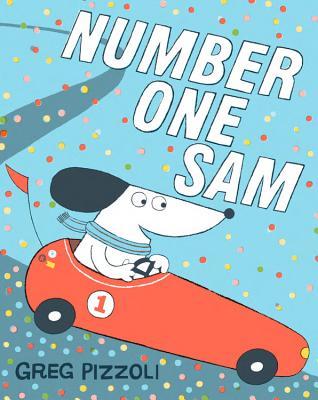 Number One Sam
by Greg Pizzoli
2014. Disney-Hyperion
ISBN: 9781423171119
Sam is used to being number one - after all, he's the best at every aspect of racing! He is shocked when he loses to his friend, Maggie, but he gets an even bigger surprise during their rematch.
Greg Pizzoli's
The Watermelon Seed
is a tough act to follow, and indeed
Number One Sam
is destined to be forever overshadowed by its successful predecessor. This book does include several qualities of successful easy readers: a strong structure, repetition of key phrases, an appealing plot, and an unexpected ending. Unfortunately, it does not have the same spark as The Watermelon Seed, or as many of the other fresh and exciting books recently published for beginning readers. The book's format also works heavily against it, as it looks like a picture book. and will probably be shelved as such in most libraries and bookstores, thereby preventing it from being easily found by its intended audience. Another problem is the story's clear and obvious moral. It's a fine lesson, but the end of the story reads more like a teachable moment than a satisfying conclusion to an entertaining tale.
Number One Sam
is reminiscent in some ways of the George and Martha books, but it is not quite as sophisticated or subtle. It's an adequate book, but one likely to be quickly drowned out by its more memorable and exciting peers.
NOTE: This book was nominated by
Betsy for the 2014 Cybils Awards in the Easy Reader/Early Chapter Book category. I am the organizer and a first-round panelist in this category, but this review reflects my opinions only, not those of any other panelist, or the panel as a whole. Thanks!
I borrowed
Number One Sam
from my local public library.